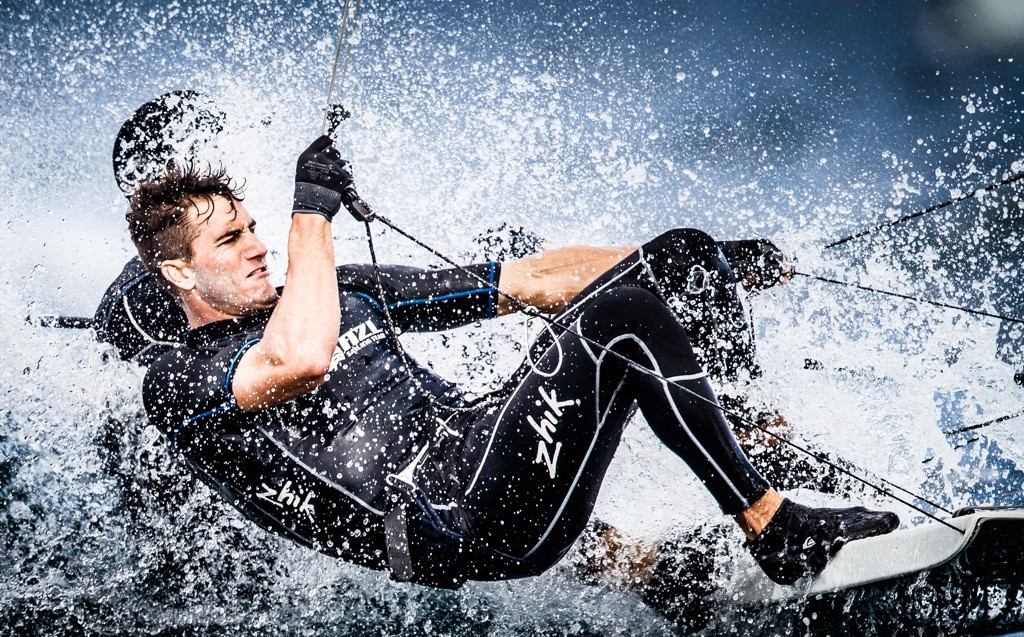 Athlete / Boat :
Blair Tuke and Peter Burling behind the slpash
Event :
SANTANDER 2014 - ISAF Sailing World Championships
Location :
Santander
About the shot :
The ISAF World Championship SANTANDER 2014 was about to take place, and my good friend Jesús Renedo (with whom I had been covering several light sailing regattas) and I where going to be part of the organization, since we had already covered the test event. However, it turned out there was not enough budget to cover the photography expenses. But we were so excited, that we decided to cover it anyway. Moreover, on the last minute, we managed to contact some good clients for the event, as the New Zealand Sailing Federation, among others. Despite the lack of local organization experienced at the beginning at the ISAF World Championship, we really made a good job, largely due to Bárbara Sánchez, the third part of our team. I will never forget this photo, which sums up an event that marked a before and an after in my professional career. Now I am aware of one of the most important things that define a good photographer: his eagerness. In such a spectacular sports event as it was the ISAF World Championship SANTANDER 2014, Peter Burling and Blair Tuke succeeded on the 49er category.
Camera :
Canon EOS-1D Mark IV, 600mm, 500, f4.5 , 1/1600