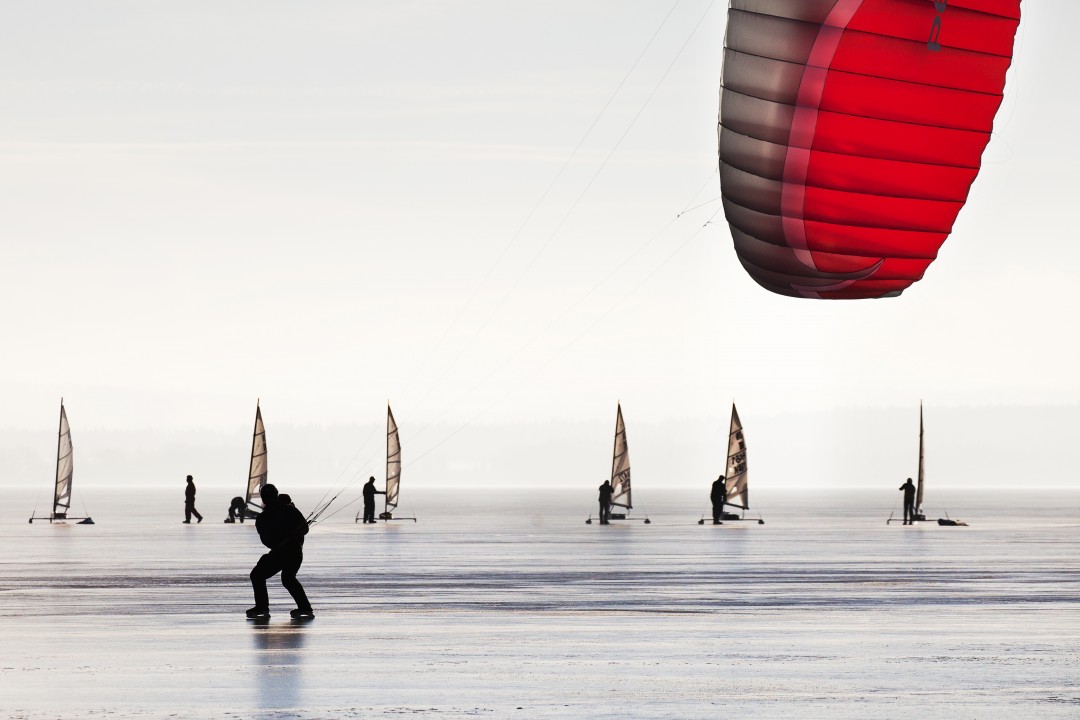 Athlete / Boat :
Jakub Hájek and icesailors
Event :
Training day of DN AUSTRIAN CHAMPIONSHIP
Location :
Lipno
About the shot :
In that day when this picture was created, I was on the ice taking photos of some ice sailors. These ice sailors are absolutely crazy guys. When it's the off-season they are sharpening their ice skates, tuning some details and there looking out for the first frosts. When the temperature goes down below the freezing point, the hunt for the best conditions start. It is important to find the ideally large and frozen surface. But even then they haven't won yet. The ideal ice can be endangered by some cm of snow, a thaw, or a thick fog can fall down. The ice sailors then often wait for some wind on inhospitable frozen waters with a boat and a car, because there isn't a pub nearby. When a big race is coming up the decision of the location is made one or two days before the start. I have a personal relationship to photography. The guy with kite is my brother-in-law, who I've ran over his ropes with my skates. Thank god the kite didn't fly away, but I had to skate away from his anger. I hope this picture is enough to say sorry. In the background there are some ice sailors, who are getting started for the race. Between them there is a man, who I've married.
Camera :
Canon EOS 5D Mark II, EF70-300mm f/4-5.6L IS USM, ISO 320, f/7,1 , 1/4000 s