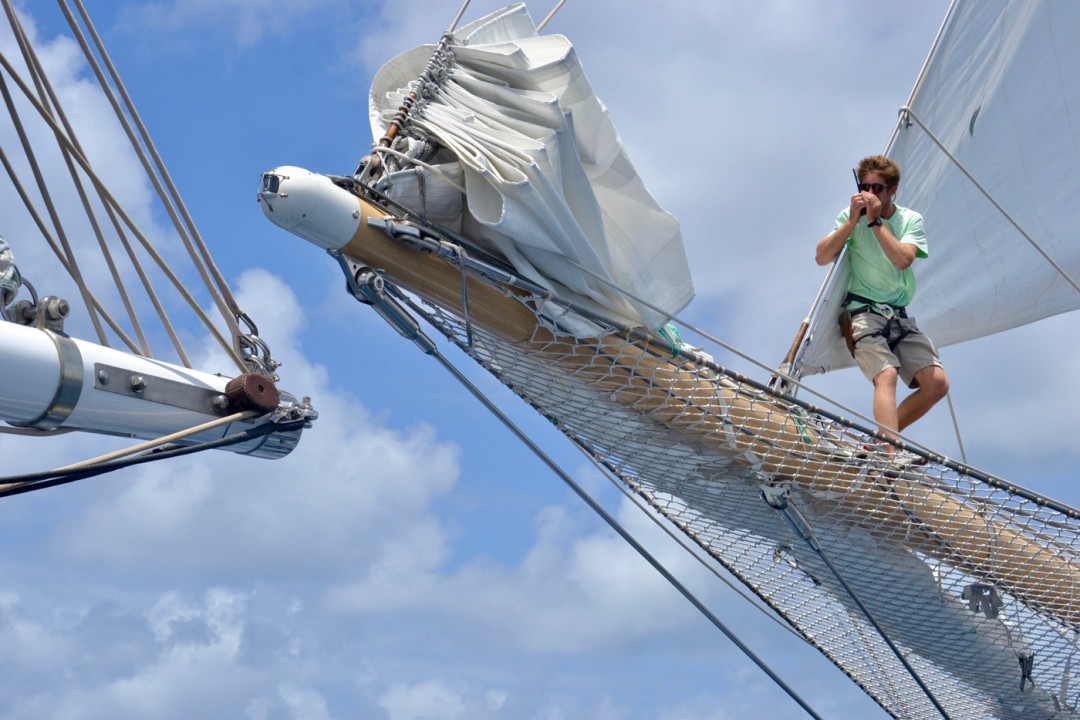 Athlete / Boat :
The Schooner Columbia
Event :
Antigua Classic Yacht Regatta
Location :
Caribbean Sea off Antigua
About the shot :
I was sitting with my camera on the stern of Columbia (LOD 141') during Race 4 of Antigua's Classic Yacht Regatta. We crossed the start line with the three masted schooner Adix (LOD 184') to leeward and behind by nearly a boat length. As Columbia picked up speed, Adix  began to steer up in an effort to get to windward and steal our wind. As Adix began to approach, her bowsprit aimed at our stern, the captain of Columbia steered up to maintain a safe distance but the gap between vessels kept shrinking. Above me, the overhanging boom of Columbia quickly closed with the extensively long bowsprit. On the bow, their bosun, Leo Sampson, radioed his skipper. What they were thinking was anyone's guess. On Columbia, we braced for a collision. I should have run forward, anywhere, but instead aimed my camera up, catching the series of photos as the two massive hunks of wood came horrifically close. The two schooners would have collided but a wave picked up Adix's bow, lifting the bowsprit up and over Columbia's boom. Their bosun gave a friendly wave, we all returned to breathing, and the race took off in style.
Camera :
Nikon D3100, 55-200 mm, 400, f11 , 1/800